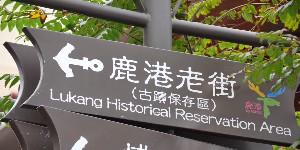 Lukang was one of the three major port cities during the Qing dynasty where merchant vessels gathered and business flourished.
Putou Street, Yaolin Street, and Dayou Street were next to a river.
Over time, this area became a hub for ship companies.
The shops here all faced the streets, with the river behind.
These shops did business on the streets and loaded goods from the back doors that led to the river.
What locals called "Lukang Old Street" is in this area.
Lukang Old Street includes a series of long streets and old-style wooden houses.
The curved alleys block strong winds and are good for defense.
A walk along the red-brick road will make you feel like you have gone back in time.
Traditional shops, including miancha and pastry shops, line the streets.
The famous Lukang Mazu Temple is the religious center for locals, with wooden carvings and paintings.
The Lukang Longshan Temple and the Lukang Wenwu Temple are also popular attractions in Lukang.