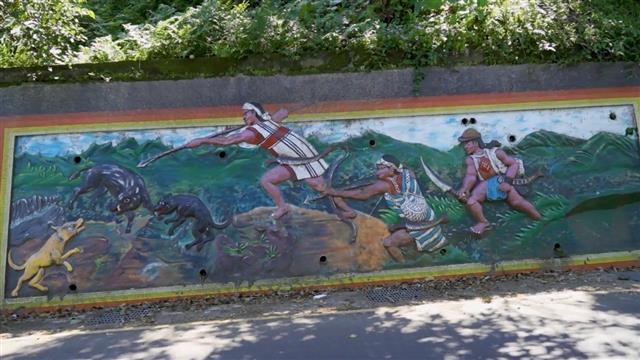 The name "Wah! Mcisal Zhudong," which comes from the Atayal language,
means welcome to Zhudong for a chat and gathering.
After two years of reconstruction,
this park has become a center that combines many indigenous characteristic features.
The park is divided into six areas,
where you can experience the hunting culture of the indigenous people,
buy specialties from them, carry out DIY handicraft activities, taste the indigenous cuisine,
and enjoy indigenous music and dance.
This park features Atayal culture.
The Atayal is one of the two major indigenous peoples in Hsinchu.
The national character is fierce and courageous,
and they live by hunting and growing crops on burned-off mountain fields.
You can find many cultural sites in the park,
such as a bonfire, as in the traditional life of the Atayal,
which conveys the cultural tradition of "fire burning all year round."
Atayal faith is mainly based on a belief in ancestral spirits.
Corridors for the eyes of ancestors are built with bamboo weaving.
Walking through the corridors is like being stared at by Atayal ancestors,
thus people get both warnings and blessings here.
Visit this park to experience the culture and charm of the indigenous people.