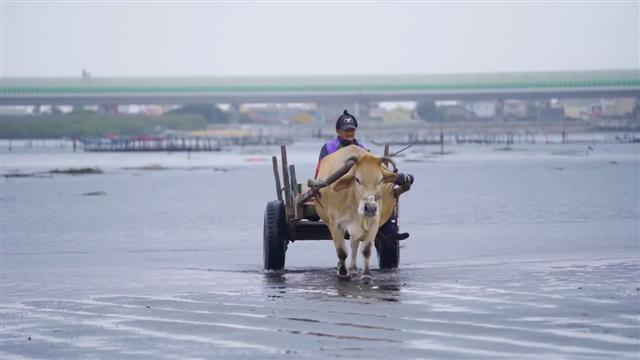 The township of Fangyuan is located near the western coast of Changhua.
It is famous for its oyster culture.
Locals used to farm oysters with the help of buffalos,
making Fangyuan known for its "sea buffalo culture."
Today, buffalos have mostly been replaced by trucks.
However, tourists can still enjoy riding to the intertidal zones on the buffalo-drawn carts
and try their hands at oyster picking.
Fangyuan is also a popular spot for ecotourism.
Its intertidal zones are darker than a typical beach
because mud from the rivers mixes with the ocean sand.
This effect creates a unique black-sand landscape.
The zones are also rich in organic materials.
This means it's easy for animals to find food, so many animal species thrive.
A number of creatures including fish, shrimp, shellfish, and crabs can be found.
Visitors who go on oyster picking tours
can explore the vast landscape along with the local wildlife.
Fangyuan Township is an excellent destination to learn about local culture
while witnessing the beauty of a thriving ecosystem.